We visited the Peloponnese in Greece three times. Here a collection of the photographs I like most.
Palea Epidauros
Palea Epidauros (also called Palaia Epidauros) is situated in the eastern part of the Peloponnese. It is a small, very relaxing town directly facing the sea. To the famous Theatre of Epidauros it is a ride of a couple of miles to the west.
Here some pictures taken from the beautiful Hotel Yialasi, where we stayed during our vacation.
Methana
Methana is a volcanic peninsula, connected to the Peloponnese.
More information and pictures about Methana
Nafplio
For a couple of hours we visited this very beautiful city, the former capital of Greece, called Nafplio.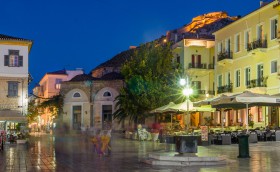 Here you can find some pictures from Nafplio.
Waterfalls of Polilimnio
Here a gallery with Pictures of the Waterfalls of Polilimnio
Kardamili
Kardamili (sometimes written as Kardamyli) is a small village in the Mani region south of Kalamata. Kardamili is very recommendable for a visit or vacation. You can expect good food and a relaxing athmosphere.
My page about Kardamili and pictures taken there.
Poros
Poros is a small island situated in the Saronic Gulf less than 200m from the Peloponnese.
My page about Poros and pictures taken there
Stoupa
Stoupa is a small village with sandy beach at the Mani, about 40km south of Kalamata. It is the next village south of Kardamili.
Other Pictures